Community Gardens 2010
From OasisNYC
Updated community gardens mapped on OASIS
January 2011 update: GrowNYC released an in-depth review of its survey of community gardens throughout New York City. The GrowNYC website has more info. The report is accessible here (PDF).
---

(August 2010)
GrowNYC (formerly Council on the Environment of New York City) has just completed its latest inventory of all community gardens in New York. As part of a longstanding partnership with OASIS, we've added the GrowNYC data to OASIS's interactive maps, in time for local activists and others to provide input into proposed new rules (PDF) governing these gardens. As Flatbush Gardener and others have noted, these rules will have far-reaching impacts on which gardens will continue to be protected from development (or if they will be protected).
(Breaking news: even the New York Times has editorialized against the proposed rules (8/3/10). We'll see if the city takes heed.)
In the meantime -- especially before the public hearing on August 10 -- you can use the OASIS website to find a garden near you, determine its protection status under the expiring rules (adopted in 2002), and find out what agency (if any) has jurisdiction over the garden. You can also find out when it was founded, what is grown there, and if you can volunteer. If you'd like to start a new garden, you can also use the OASIS maps to obtain helpful information such as property ownership, nearby resources such as schools, and surrounding land use patterns.
For more information about the latest community garden inventory, contact GrowNYC (212-788-7927 or llibrizzi@GrowNYC.org). You can also contact GreenThumb for more garden information.
What's new
What's new is the garden data itself -- information about many of the gardens, as well any new gardens or garden areas that may have changed. Information for about half (approximately 200) of the gardens was updated in the past year.
For example, the "LDC of Broadway" garden in Bushwick has an updated description as well as updated info about membership/volunteering and hours of operation (click here for the info and the map).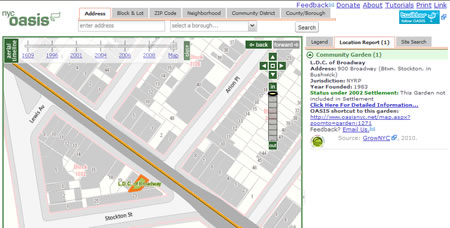 GrowNYC spent a year surveying garden groups, coordinating with GreenThumb and other garden coalitions, and interviewing gardeners to get updated information. Lenny Librizzi coordinated the effort (see contact info above), and Mara Gittleman -- a Compton Fellow -- designed, implemented, and analyzed the survey (and updated the map layer for OASIS). Her fellowship was supported by the Compton Foundation. Mara is @farmingconcrete on Twitter and at her blog.
Before this update, the gardens data on OASIS was from circa 2008. Occasionally we'd update a garden profile if someone sent us (and GrowNYC) new info, but this is the first (and only) comprehensive, citywide update of gardens since then.
Search for gardens
OASIS provides a dedicated search tool to locate any of the 480+ gardens across the city. (Many more are located on school or other city property -- these are shown on the map, but not included in the search tool.)
The search tool displays an alphabetical list of all community gardens. Selecting a garden will zoom to its location on the OASIS interactive map.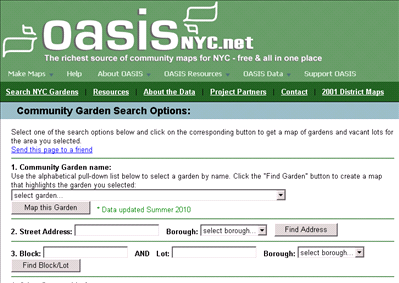 The search page also provides options to search by street address, borough, ZIP Code, and neighborhood. If any gardens are in or around the areas you've searched, they'll be displayed on the map. You'll need to click on each one to obtain more detailed information.
Finding gardens on the map
If you're already at the map, you can use the "Site Search" option to type just a few letters or a word included in the garden's name (or you can type the full name). As you're typing, you'll see a list of items that include your search term (see example below).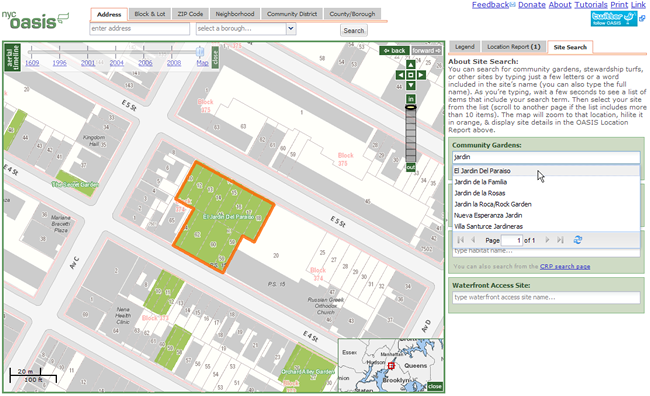 Then click the name of the garden you want to map.
(Ten items are displayed at a time; scroll to the next page in the list if more than 10 gardens include the text you entered.)
The map shows each garden location in
green. The gardens are labeled by name. If you happen to be zoomed in to an area on the map and you see a nearby garden, you can click on it for more information.
Detailed garden info
Once you zoom to a garden on the map, you'll see it highlighted in orange. Click the "Location Report" tab for more info: name, address, jurisdiction, 2002 settlement status, and year founded. From here you can click a link to a page of detailed information and photos (if available).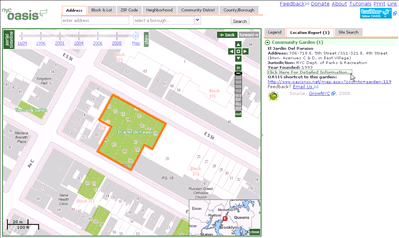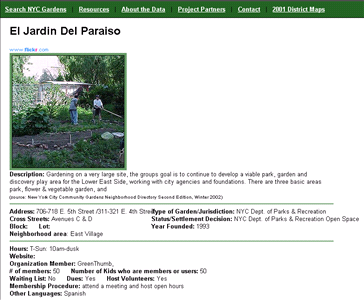 Many gardens are considered "vacant land" by the NYC Dept of Finance. They may not generate property tax revenue, and they usually don't have any buildings. If you've selected a garden on OASIS that happens to be on property considered vacant, the Location Report will show a brown
patch that indicates the city officially considers the land vacant. But we've added a note that says "Actual use: Community Garden".
Garden links
OASIS provides garden-specific URLs. They look like this:
http://www.oasisnyc.net/map.aspx?zoomto=garden:28

If you type this example into your browser, it will zoom directly to the La Plaza Cultural garden in the East Village. You can then tweet this link, use it in your website or blog, or send it in an email.
The "garden:28" refers to an ID system used by GrowNYC. But you don't need to know the garden ID; you can just click on a garden on the OASIS map, and we'll generate the garden-specific URL for you. It's displayed in the Location Report.
Bird's eye view of each garden
When you select a garden on the map, you'll also see an orange "camera icon"
on the garden location. Click it to display a bird's eye view of the property (from Bing maps).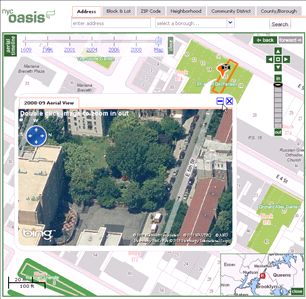 Use the N/S/E/W icon in the upper left of the bird's eye view to see different perspectives on the area. This can be especially helpful if the garden is next to a tall building (like a school). Rotating the bird's eye view will show you what the garden looks like on the other side of the building.
Land use and more
OASIS provides a wealth of information about the city. For example, you can display land use patterns around your garden. The example below shows color coding to indicate predominant residential, commercial, institutional, and other land use types.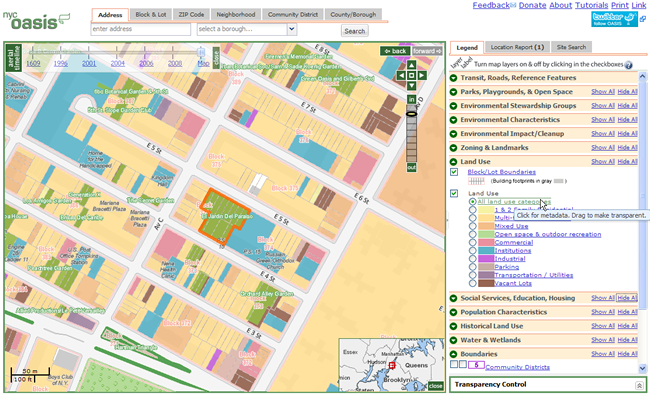 You can also display nearby schools, local environmental stewards (in partnership with the Forest Service's "StewMap" project), NYC public housing, libraries, and more. Just check the items on the "Legend" tab that you want to show on the map.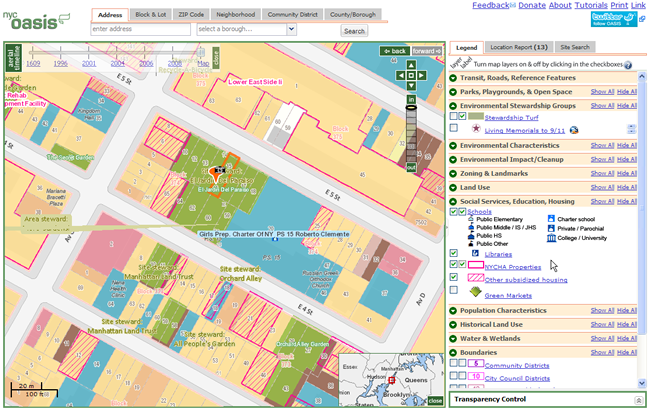 Clicking on any spot on OASIS's maps provides great detail about that location. The example below shows the property-level details for one of the parcels that makes up the El Jardin de Paradiso garden.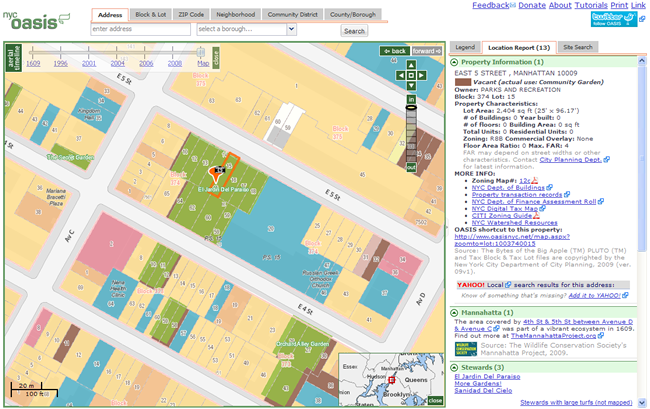 More information
The gardens section at the OASIS website has background about the history of GrowNYC's effort to map them. GrowNYC's website has more info, and GreenThumb provides great resources.
For more information about how to use the OASIS website and maps, view our video tutorials and updates about the website itself.