OASIS map update archive
From OasisNYC
Summer/Fall 2011 updates
Here are the latest enhancements and data updates for the OASISnyc.net maps.
2010 Aerial Imagery
We've added new aerial imagery, thanks to the NYS GIS Clearinghouse. Now you can view overhead images from 2010 (as well as 1996, 2004, 2006, and 2008) throughout New York City and Long Island. (The 1996 imagery is from NYC DoITT, 2004 is from USGS, and the other years are from the NYS GIS Clearinghouse.
For example, you can see what the World Trade Center site looked like from above in 1996, and then in 2006, and more recently in 2010. The overhead images show clearly how the building footprints are reflected in the memorial plaza fountains now under construction.
| WTC 1996 | WTC 2006 | WTC 2010 |
| --- | --- | --- |
| | | |
Visualize Aerial Photo Changes like a Timelapse Movie
Even better, we've changed the way you can view the imagery over time. Now you can move the aerial timeline slider across years to transition from one year to the next, creating the effect of a timelapse movie within the OASIS map.
You can move the slider as slow or as fast as you'd like.
A good example of the new timelapse imagery is Shea Stadium (now Citi Field). The images below illustrate the transition in recent years.
| Shea Stadium 2006 | Shea Stadium 2006-08 | Citi Field almost done 2008-10 | Citi Field 2010 |
| --- | --- | --- | --- |
| | | | |
Historical Maps: Striking Images of the Changing Lower Manhattan Shoreline
With historical maps from the NY Public Library and the Mannahatta imagery from the Wildlife Conservation Society, you can also see what the area likely looked like 400 years ago when Henry Hudson sailed up the river, and how the shoreline has been changing over the centuries. Position the aerial timeline slider inbetween 1609 and 1996 for a powerful overhead image of how Manhattan's shoreline has changed.
| Lower Manhattan circa 1609 | 1609 with 1870s overlay (via NYPL) | Shoreline changes: 1609-1996 (via Mannahatta) |
| --- | --- | --- |
| | | |
Land Use Changes Citywide
Now that OASIS gives you the ability to display historical land use, you can easily see how patterns have changed in key areas of the city. In lower Manhattan, the area around the World Trade Center site has changed substantially in the past 10 years. Of course reconstruction is underway at the WTC site itself, but the surrounding community has become much more residential. The land use maps below from OASIS visualize some of these changes (yellow and orange are residential properties, brown is vacant, and light red is commercial).
| North Battery Park City & TriBeCa vacant land (and WTC empty): 2003 | Residential towers built, WTC site in redevelopment |
| --- | --- |
| | |

The maps below highlight the changes from commercial office buildings to residential towers, such as the block between Broad and Hanover streets & Wall and Exchange streets -- especially the JP Morgan Building at 15 Broad St and the National City Bank Building at 55 Wall St.
| Financial District commercial property circa 2003 | Replaced by Residential by 2010 |
| --- | --- |
| | |

The Wall Street Journal also has some great maps and graphics that highlight these changes. One of them (see below) shows the residential buildings built after 2002, which matches the OASIS maps shown above.
More Community Data
The latest example of linking mapped information from grassroots groups is the layer of skate parks in the city by longtime OASIS partner Open Road of NY. (The OASIS community mapping effort is based on Google's new Fusion Tables service; more info here.)
Here's the link to the map on OASIS, and the original Google map from Open Road.
This also highlights the importance of current aerial imagery, such as the two views below of the Chelsea Piers Skate Park: still under construction in 2008, but largely complete in 2010.
| Chelsea Piers: skate park construction 2008 | Skate park construction in 2010 |
| --- | --- |
| | |
We've also added the locations of stalled development sites across the city (based on a map from Crain's New York Business), and the city's hurricane evacuation centers (more on that below).
Hurricane Irene
OASIS was one of the non-governmental mapping sites that was online and accessible before Hurricane Irene landed in New York City -- which proved invaluable because the city's hurricane evacuation finder (along with the NYC.gov website) was down due to high traffic. This blog post has more background on our contribution to the preparedness effort.
---
Map Links
Click here to learn about an easy way to create direct links to specific maps on OASIS. You can also use this to update any pre-2009 referring links at your website so they'll work with the current version of OASIS.
Spring 2011 updates
Two "community data" features were added, in order to make OASIS more open and accessible (pun intended!) for its users. The OASIS wiki has more information.
Also, we've added links to historical zoning maps in New York City. The NYC Dept of City Planning has posted these maps as PDF files at their website. Now, when you zoom to specific property on OASIS, the Location Report includes not only a link to the current zoning map (such as this one), but to a larger PDF that displays zoning maps for that area going back to 1961. Neat! See below for an example: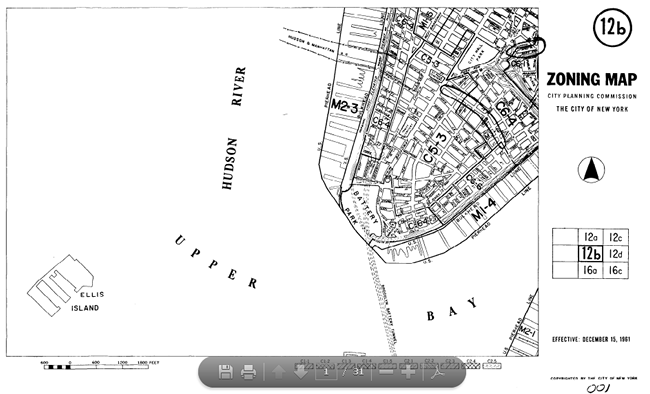 Winter 2010-11 updates
We added an important new mapping tool, integrated new data sets, and updated several other map layers:
Historical land use. We've added a new "timeline slider" to the map legend, so you can view parcel-level land use maps over the past 7 years (for the years 2003, 2005, 2007, 2009, & 2010). Even during this period of real estate bust, the changes in several city neighborhoods are striking. Examples will be posted shortly.
Two new data sets can be viewed on OASIS's maps:
Maps of national wetlands and public access to the waterfront.

The national wetlands information represents the latest mapping effort by the US Fish and Wildlife Service's National Wetlands Inventory. They've refined the areas covered by wetlands, enhanced how they categorize wetlands, and provided an easier way of accessing this information through Google Earth and more. We've incorporated the latest wetlands maps (current as of October 2010) into OASIS. Here's a link to the wetlands in Four Sparrow Marsh, Brooklyn (the site of a recent development proposal).
The public waterfront access data was obtained from the NYC Dept of City Planning's Vision 2020: Comprehensive Waterfront Action Plan. Among other things, the Planning Department mapped publicly accessible waterfront spaces across the five boroughs. This data set enhances an earlier effort by the Metropolitan Waterfront Alliance and NY/NJ Baykeeper to map public access points along the waterfront in New York City and in northern New Jersey. The MWA/Baykeeper maps focused on specific locations that provided entry points to the waterfront. The new City Planning maps cover broader areas along the waterfront, most of which were constructed in conjunction with private waterfront developments, pursuant to the NYC Zoning Resolution. But the Planning Dept notes that "The publicly owned spaces in this shapefile do not include parks or open spaces under the jurisdiction of NYC Department of Parks and Recreation, NYS Office of Parks, Recreation & Historic Preservation, or the National Park Service." Here's a link to OASIS (http://bit.ly/gIkiiu) showing private waterfront developments in Williamsburg, Brooklyn, along with an adjacent state park and public pier.
Several existing map layers on OASIS were also updated in winter 2010-11:
NYC property data from the Dept of City Planning's PLUTO data (current for 2010);
NYC parks and other open spaces from the NYC Dept of Parks and Recreation (current for 2011). This includes several new parks such as:

the West Harlem Piers in Manhattan (OASIS map showing proximity of park to public housing and schools),
the Brooklyn Bridge Park (OASIS map link), and
the new park configuration in and around Yankee Stadium (OASIS map link);

Zoning districts from the NYC Dept of City Planning (current as of January 2011); and
NYC landmarks and historic districts from the NYC Landmarks Preservation Commission (via the city's Datamine website, based on geographic data posted by the NYC Dept of Information Technology and Telecommunications), current as of September 2010.
Summer 2010 updates
The biggest change is that we've added the latest community garden inventory from GrowNYC. Over a year in the making, the new garden maps come just in time to provide context for the new proposed rules for gardens being considered by the city. Find gardens on OASIS's maps via an updated search page. Read more at our summary & tutorial.
Also, we've updated the latest subway, bus, and bike route data. Read more about the new data here (subway routes) and here (subway stations). (As a side note, we've responded to requests from users who wanted the ability to display the subway routes separate from streets and rail lines. You can see an example at the Spatiality Blog.)
Other data updates include parks and playgrounds, zoning districts, scenic districts, and historic houses.
The search options for community gardens, stewardship turfs, and the NY/NJ Harbor's Comprehensive Restoration Plan data have been updated. We've updated the OASIS wiki for tutorials and examples of how OASIS can benefit local groups.
We've also started to incorporate historic maps of Manhattan in partnership with the NY Public Library. For an example, see Spatiality Blog and our wiki tutorial.
In 2009 the CUNY Mapping Service at the Center for Urban Research completely transformed the OASIS mapping site. More background, and information on recent updates, is available here.
Pre-2010 updates
April 2007. Maps of coastal storm impact zones have been added to OASIS. We are beginning to include more information about the region's waterfront, and this is one of the latest data sets that we've added. You can find out if your property or nearby park, community garden, beach, or boating site might be impacted. More details about the data are available here.
March 2007. The latest publicly available property data for New York City has been added to OASIS. The data is now current as of fall 2006, from the "06C" release of the NYC Dept. of City Planning's "MapPLUTO" file (see DCP's website) for more information.
December 2006: Tree data from Greening for Breathing in the South Bronx. More info.
November 2006: Aerial photos from 2004 have been integrated into OASIS's maps, so you can compare "then and now" images between 1996 and 2004. More info.
October 2006: Open Space profiles for the 59 NYC Community Districts including: % of Community District that is Open Space and % Tree Canopy. Data was provided by the NYC Environmental Justice Alliance and Sara Hodges. To view it, use the identify tool to click on OASIS's maps anywhere in NYC.